Q: How will my kit be delivered?
A: When you purchase a Little Cottage Company Playhouse Kit from WoodenPlayScapes.com, it will arrive to you on a securely packaged pallet.  Please be sure to note any damage with the driver.  Your Outdoor Wooden Playhouse Kit can easily be assembled by 2 adults in 4-8   hours (except for Sara's Victorian Mansion).  The pieces on the pallet will weigh anywhere from 40 to 60 pounds each (some larger kits may weigh up to 95 lbs each piece).  Panelized walls and alphabetized directions will make for an easy assembly!
Delivery of DIY Playhouse Kits

Little Cottage Company playhouse kits are shipped nationwide via common carrier. When your shipment is expected to be delivered via common carrier, you will be required to have 2 people there to help unload. Your shipment will arrive on a pallet (number of pallets will vary with size of building). The truck driver will help remove the bands and wrapping on the pallet, the 2 people will then be required to unload each panel piece by piece from the truck. However, if you so choose, when you purchase your playhouse you can pay an additional fee to have your playhouse delivered with a lift-gate. When purchasing lift-gate, the truck will pull up to the end of your driveway, and using the lift-gate will simply lift the pallet off the back of the truck and into the end of your driveway. When lift-gate is purchased you will only be required to have 1 person available to sign for the shipment.
Q: How long does delivery take?
A: Kits: We have playhouse kits in stock for immediate shipment.  Most kits will arrive within 5-7 business days from date of order. Most Storage Shed Kits are made as they are ordered and can take anywhere from 1-3 weeks to ship, please call for further information. Kits will arrive by common carrier (see above for further delivery instructions).
Pre-built: The Pre-built units can take between 2 and 4 weeks to deliver, this is due to the custom nature of these units. Pre-Built units will be delivered by our driver.  
Little Cottage Co. does ship nationwide!
Q: What type of foundation is necessary?
A: The most important thing is that the site is level.  We recommend a crushed stone, patio block, or concrete pad to form a base, however the base of our playhouses are constructed of treated lumber and may be placed directly on the ground. When preparing a base you should make the base one foot wider on all sides of the playhouse. For further information please go to our Site Preparation page.  
Q: How tall is the playhouse?
A: Each playhouse differs in height.  Depending on which playhouse you are interested in you can go to the specific page and the height will be listed there. (typically, the small playhouse 4x6 is roughly 6' high.  The 6x8, 8x8, and 8x12 are roughly 8' high.  The 10x12 cape cod and Victorian are roughly 9' high).
Q: What is drip edge?
A: Drip edge is an aluminum piece that will be installed along the edge of the roof of the playhouse. The shingles will be installed over top of the drip edge. This can easily be purchased at your local home improvement store or lumber yard. This is only needed for playhouse kits.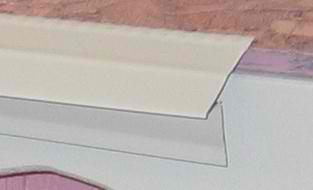 Q: Once the playhouse is in place will we be able to move it?
A: If you want the ability to move your playhouse in the future, it will be necessary to purchase and install the 4x4 runners. 
If your playhouse has the 4x4 runners you can call a local towing company, with a flatbed and a winch, and they will be able to move the unit.
If it is necessary to move your playhouse from one area of the yard to another, you can use heavy wall pvc pipes or you can call us at 1-866-665-0105 for more information.